If you are new to this page, you might want to look at it from the bottom up, beginning with the entry from 1/28/12. We invite you to read about Tali, follow the links–and the links within the links–and be inspired and motivated by the example that was her life.
With gratitude and blessing,
R
——————-
May 31, 2019
New information on Talia's continuing legacy can now be found at tragedytest.com/the latest. Bookmark it and come back often. Thank you!
______________
March 7, 2018
We remain honored to do this work and, along with the girls, are more than grateful for your continuing support.
It has been awhile but we have been busy nonetheless. There will be additional news and exciting information coming soon but in the meantime we have:
Amazing News from the Tali Fund!
We are thrilled to announce that the
One World Children's Fund
of Los Angeles, CA, has made a gift of $25,000 to the Talia Agler Girls Shelter in Nairobi. Yes, this is awesome!
TAGS' parent organization, The Centre for Domestic Training and Development, was one of OWCF's first forty partners from around the globe. This new, unrestricted grant shows how much they value and endorse the work of the Shelter.
It is an amazing gift, but (you knew there was a but coming) it is a one-time contribution. While it will help to put TAGS on a firmer financial footing and enable Edith to strengthen the program in a myriad of ways, an essential part of the Shelter's life support still comes from individual donors.
Accordingly, the Tali Fund is launching a campaign, from now until the end of 2018, to MATCH the $25,000 from OWCF with contributions of our own. Can we all make that happen? I have faith!
We are asking everyone who is connected to the Tali Fund (if you are reading this, that includes you 😉 to make a contribution in any multiple of $25, in honor of the $25,000 from OWCF. Simple as that!
Anything you can give, whether it is $2.50, $25, $50, $100, $250, $2500, or really, any amount whatsoever, will be deeply appreciated. More important, it will be effective, in sustaining the Shelter and continuing its work of Rescuing, Rehabilitating and Reintegrating trafficked and abused girls.
Simply click here
to make a contribution online or for information as to how to do it by check. Thank you so very much! We remain blessed to be able to continue this work in Tali's name.
We have some other news that is not as happy. Martha Lefebvre, the woman who received Talia's donated heart, passed away on September 30. She had been hospitalized for several weeks and ultimately succumbed to pneumonia. Unfortunately, due to her medical condition, she herself was unable to become an organ donor. After six-plus years of life that would not otherwise have been, for Martha and her loving family, a chapter closes.
Once again, if you have not already done so, please volunteer to become an organ donor. It is painless, free, and does what precious few of us are able to do: save
life
when there otherwise would have been
death
. Go to
organdonor.gov
in the US and register today.
Thank you to one and all who have been supporting Talia's ongoing work. We are grateful and more importantly, the work rescues what would otherwise be lost lives. Please continue to do so!

Either way you will be helping to Save the World–One Life at a Time!
In an world that often seems upside down and deeply troubled, it is gratifying to be able to make a real impact on people's lives. This is why the
Tali Fund
does the work that it does. If you've read the current trip report, or any previous accounts (see below) of the work we sponsor, you know exactly how.
We also have some exciting news:
The Talia Agler Girls Shelter (TAGS) and its parent organization CDTD announce a sponsoring partnership with the One World Children's Fund. OWCF is a San Francisco based organization founded in 2000 that is devoted to supporting sustainable change in the lives of children worldwide.
TAGS/CDTD has been vetted by OWCF through on-site visits as well as extensive interviews with principals and supporters. We are proud to say that TAGS is one of the first 40 organizations in the world to be selected by OWCF and designated as a partner.
We are especially happy that OWCF enables TAGS supporters to make recurring monthly donations automatically. Setting one up begins by clicking here. Of course gifts can be made directly through the Tali Fund as well.
OWCF charges a small processing fee to cover the cost of receiving and forwarding donations to TAGS/CDTD quarterly. There is no fee charged for donations made directly through the Tali Fund, from which donations are forwarded monthly.*
For those who have been supportive this summer and all along, we are grateful and the girls at TAGS are beyond that. As we have noted before, even a few dollars go a very long way in Africa. (Of course more dollars go even further!)
Whatever form your support takes thank you for joining with the
Tali Fund
in
"Saving the World–One Life at a Time."
Here's Part 1 
of our report from a just completed trip to Kenya. Further installments to follow!
As the end of 2016 approaches, we want to share news of some recent happenings at the Talia Agler Girls Shelter in Kenya.
First, a young woman from American University in Washington, DC recently completed an internship at TAGS and its parent organization, the Centre for Domestic Training and Development. (Yes, this is the same program that introduced Tali to the CDTD when she was a student at AU!) The student, Laurel Booth, has written an account of her experience for Global Giving, one of TAGS' sponsors. You can read her first person account here.
Now how about a riddle? How did a Jewish girl from America manage to unite a "Lotus Healing Seva Group" of Indian Hindu women  with a group of orphaned African Christian girls? The answer of course is through the Talia Agler Girls Shelter. Read the heartwarming story of their tree planting outing here.
As the year concludes, we wish to thank everyone who has been supporting the Tali Fund either directly, through Global Giving or through purchases via smile.amazon.com. Your contributions, however modest,  make the motto of the Tali Fund real: "Saving the World–One Life at a Time." It is a privilege for us to do this work and we are honored to have the support of so many.
May we all become a source of even greater blessing in 2017.
——————
Exciting news! You can now support the Tali Fund with every purchase you make through Amazon–at no additional cost to you! It is easy, painless and most important, it makes a real impact. Register easily today at smile.amazon.com

Here is a letter I've just sent out to friends of the Tali Fund and the work it helps sustain:
The program at the Talia Agler Girls Shelter (TAGS) in Nairobi continues to strengthen. There is no shortage of needs and when those needs are met, it can be life changing--and frequently life saving.
Reintegrating into society after being trafficked or abused is unimaginably difficult. Having to care for a newborn at the same time makes it even more so. A number of the girls at the Shelter are new mothers (and not because they have chosen to be). To improve their chances for success, TAGS has recently instituted a child care program. It enables mothers to devote themselves to vocational training while their little ones are cared for.
We recognize how vital daycare is for professional Western women and their families. (Think of where you, your children or grandchildren would be without it!) To an underage victim of rape or trafficking, it can mean the difference between an independent life and a collapsed one–for mother and child alike.
Sophie (not her real name) is a victim of forced Migration and Sexual Abuse. She recently had this to say: "I am so excited to be able to learn and raise my son at the same time. I really appreciate Talia Agler Girls Shelter for walking with me from the time I was defiled, through pregnancy and childbirth and the continued support to me and my baby. I have no relative in Kenya and TAGS has been my family."
There are others like Sophie at the Talia Agler Girls Shelter. For every one of them TAGS is their best hope, and perhaps their last hope, for a decent and productive life.
The good news is that daycare in Kenya is not as expensive as it is in the West. Just three dollars will provide daycare for one child for one day. Again, that is $3 for one day! That small amount allows each mother to pursue her vocational training as she builds the foundation for a new and productive life.
The Tali Fund invites you to contribute to the Daycare program at TAGS. Choose a multiple of $3, or any number you may prefer, and click here.
You can find more information on the TAGS' New Opportunities for Young Mothers program here through our partners at Global Giving, an international clearinghouse of vetted charities.
Thank you one and all for you ongoing love and support. It has meant more than the world to our family and to those who continue to be blessed in Tali's name.
——————-
6/9/16
I recently participated in the March of the Living, an interntational program that takes High School seniors to the death camps of Poland followed by a week in Israel. This was my third "March" and by far the best, primarily due to the 100 Miami students who were as terrific a group of young people as you could ask for. It gave me some much needed and always welcome hope for the future.
As you might imagine on such a trip, there are countless memorable moments and I could write for some time about many of them. An intensely personal highlight was this incident, described by my colleague, Rabbi Efrat Zarren-Zohar in her newsletter.
Motza'ei Shabbat in Poland, Rabbi Eli Wolf, Rabbi Rich Agler and I shared our personal faith journeys and understandings of God after the Holocaust. Rabbi Agler spoke last and revealed that he struggles with the paradox of why bad things happen to good people every day since his 26 year old daughter Talia Agler was struck and killed by a car while out jogging one night four years ago. In tears, he disclosed that what consoles him partially is the legacy of good his daughter left behind, including a cause she used to work for that was named posthumously in her memory–the Talia Agler Girls Shelter in Nairobi, Kenya, for victims of abuse and human trafficking (https://talifund.org/donate-2/)
Upon hearing his story, the next day members of Rabbi Agler's Red Bus surreptitiously collected money to support the Shelter on their bus, then went to Blue Bus and Yellow Bus to do the same. By the next morning, when we all landed in Israel and were standing on the terrace of the Begin Museum overlooking the magnificent Old City Walls of Jerusalem for our Shehechiyanu moment, Ariel Gelrud-Shiro, on behalf of all the LMMOL participants, presented Rabbi Agler with $1600 of spontaneous donations for The Talia Agler Girls Shelter in memory of his daughter. Needless to say, Rabbi Agler was again moved to tears by the compassion and generosity of the gift.
What an amazing way to take one of the key messages of the March–counteract the hate of the Shoah with acts of hesed–from theory into action!
Amen my dear colleague and thank you so much. The money the students (and staff) raised was sent through the Tali Fund to Nairobi. Edith Murogo, CEO of the TAGS, sent this message to the students in gratitude. I reprint it in its entirety.
Greetings from Talia Agler Girls Shelter (TAGS)!
We are in receipt of your donation given during the 2016 March of the Living, Miami Delegation which came through Rabbi Richard Agler whom we fondly call Rich and are very grateful for the effort you pulled together to support our cause.
The donation you gave has benefited very needy and disadvantaged girls at our shelter which is named after Rich and Mindy's daughter who interned with us in 2006 and passed on in 2012.   
We first met Tali through an abroad internship program of the American University, Washington DC, where she was a student. When Talia interned with us, she was an angel to work with and her passion for transforming the girls' life remains unmatched. As a young Jewish girl she demonstrated commitment to her faith and opened her arms to vulnerable girls and youths in our program.  We are happy that her dream of transforming the lives of others and healing the world lives on through our work.
During her internship Tali realized that our organization was struggling with finances and did not have required resources for training our beneficiaries. She was quick to say that she really wanted to do something for our organization.
Tali's enthusiasm for transforming the world led her to call back home and was able to mobilize friends and family who donated money that was used to construct classrooms and buy equipment for training domestic workers. To date we still use most of the equipment that she donated and we pride ourselves in being the only trainers for domestic workers in Nairobi. 
Shortly after Tali passed on in 2012, we named one of our programs which is a shelter for girls in her honor- this is the Talia Agler Girls Shelter (TAGS). Since its inception, TAGS has assisted over 300 girls using a 4R's approach of Reach, Rescue, Rehabilitate and Reintegrate girls who are victims of trafficking and other forms of abuse.
The impact of Tali's short but most fulfilling life lives on in her legacy, and today the Talia Agler Girls Shelter is a leading voice for change advocating for the rights of trafficked and abused girls in Kenya and the Region. You can learn more about our work and what we have achieved so far on: https://goto.gg/10912 and www.cdtd.org.
The money you contributed has been used to pay school fees and other school requirements for our 26 beneficiaries who are in Primary, High School and Vocational Skills Training. We can never change the lives of these abused girls without the support of generous friends like you.
We truly appreciate your gesture and pray that someday you can visit us and experience firsthand the work that is being done in Tali's honor. Welcome–Karibu from Kenya!!!
May God bless you and your loved ones abundantly, now and forever.
Blessings,
Edith Murogo
Executive Director–Centre for Domestic Training and Development (CDTD)
Not to bury the lede here, but $1600 paid for boarding school fees for 26 students!!! The impact this will have on their lives, through the education they are receiving that they would not have otherwise, is obviously incalculable.  Once again, it is an illustration of how far even relatively modest sized donations can go in Edith's capable hands at the CDTD and TAGS. Please rejoice in your gift. The girls most certainly are.
You can make your difference by donating to the Tali Fund here.
With gratitude and blessing, R
——————-
4/9/16
Today is the thirty-first anniversary of Talia's birth. Blessedly, her work continues.
Global Giving, the international collective that funds charities around the world, recently designated the Talia Agler Girls Shelter (TAGS) a "Top Ranked" organization for 2015. Global Giving is a funding conduit for literally thousands of charities so this is quite a distinction. Thank you to all who have been contributing through GG to help make it so!
——–
The Talia Agler Girls Shelter continues to thrive in Nairobi. A number of academically qualified girls who were rescued by TAGS now attend a boarding school located a couple of hours outside of Nairobi. They have the opportunity to complete secondary school and prepare for university. After a childhood marked by being trafficked, abused, exploited or otherwise victimized we can readily appreciate what a life changing opportunity this is.

Here is an excerpt from a report on the Shelter's residents at boarding school from Edith Murogo, CEO and Guiding Light of TAGS and the Centre for Domestic Training and Development (CDTD).
"What Has It Taken To Keep Girls In School?
…From a humble beginning of sponsoring 8 girls in 2013, we have now grown our sponsorship fund to benefit 61 girls learning at different levels in 2016. This year more than ever before, we have been ambitious with our goal to "Educate a Girl–Build a Nation." We have increased this number eight fold as illustrated here below:
Primary school Boarding – 14 students
Primary Day School           – 20 students
Secondary school                -9 students
Tertiary Institutions          -3 students
Vocational Training           -15 students
Edith with student on visiting day at boarding school
Supporting girls to go to school requires school fees and levies, uniforms, provision of classroom materials, personal items, school visits and psychosocial support to the girls and their families…I take this opportunity to invite you to continue supporting us. Give girls the only thing that can make a difference in their lives – Education!"
TAGS staff visiting with students
Thank you Edith! It remains a privilege to work with you.
——-
Back at TAGS, life continues apace. I recently spoke with a Director from the Novo Foundation,  a current sponsor. This Director travels to shelters across the globe and allowed that "Many of them can be depressing. But TAGS is not like that. There is a very good spirit about the place!" Of course we  know this from our own visits but it is always good to hear such words from an expert in the field. Truly, it is a tribute to the character, leadership and skill of Edith Murogo.
———
Our friend Dr. Bernard Ginsberg, who traveled to Nairobi with us in November, recently donated a microscope and telescope for the use of the girls at the shelter. "Daktari Ginsberg" was moved by the dedication of the teachers and students at the TAGS and wanted to help enrich their science education.
The gift is en route and will assuredly be put to good use when it arrives.
If you haven't had a chance to read or finish the report from our last visit to the TAGS and the CDTD, it's just below at the 12/01/15 entry.
If you are thinking of traveling to Kenya for any reason (business? world class safari?) be sure to let us know. We will be happy to arrange a visit to the TAGS and what we promise will be a most meaningful addition to your itinerary.
——–
ORGAN DONATION–Tribute, Video and Love
On Talia's birthday, we also send love to the recipients of her donated organs. Some of them we know, others we do not. We remain grateful that her heart still beats, her lung still breathes and she continues to be a blessing.
Brandy Swann, who received Tali's lung, recently penned this for the Donation Quilt that is being created in Washington, DC. You can meet Brandy in this NBC News Washington report.
"At the end of January 2012, my struggle to stay ahead of a terminal lung illness was profoundly changed by receiving a healthy lung from my donor, Talia Agler. It is with such gratitude and pride that I offer this tribute to her.
It turned out that Talia had made the decision to be a donor before she was even eligible for a driver's license. She and her family discussed it together and put great importance on the gift of life.
I have had the pleasure and privilege of learning about Talia and her life. There is a poem which speaks of that little "dash", that mark between the date one is born and the date one dies. In Talia's life, that dash is way larger than the short number of years might indicate. I tried to represent some idea of who she is by making this quilt square.
Talia loved her years in Washington DC. She graduated from American University, taught Sunday School at Temple Sinai, loved working at Chemonics, and was connected in a lively way to a large group of family and friends. The beautiful stones on her grave marker serve as a reminder of the many lives she touched.
Her love for people went beyond our borders to Nairobi, Kenya where her heart and energy helped accomplish the building of a school and safe compound for women and children who have been rescued from the tragic circumstances of trafficking and other abuse. The shelter and school, TAGS, thrives today and can always use our interest.
This quilt square is to honor Talia's life. It includes two things she was fond of saying and living by: "Family comes first … and everyone is family."     And "Donate Life".
Thank you Brandy. If you have not yet registered to be an organ donor, go to organdonor.gov today. It is painless, it is free and it is the easiest way to save a life imaginable.
——–
Finally for now, The Tali Fund has now been established to support the causes and the values that were central to Tali's life. It is a 501(c)(3) foundation you can contribute to securely and directly through this link. All gifts have a profound effect but if you have not already done so, you may want to consider becoming a monthly donor–any amount makes a huge difference. After unspeakable abuse, your gift will help reach, rescue, rehabilitate and reintegrate girls back into society. Simply put, you will be helping to save lives.
Thank you for your continuing support in honor of Talia and the work she continues to accomplish.
—————————-
12/23/15
We are honored to announce the creation of The Tali Fund. It is a 501(c)(3) family foundation dedicated to supporting the ongoing work of Talia Faith Agler. We invite you to visit the website at talifund.org and consider making a tax-deductible contribution. Thank you!
To give you an idea what the fund has been supporting recently, here is a project report:
Thank you for bringing us this far ……….
By Lillian Mang'ong'o – Community Outreach Officer
Greetings from Talia Agler Girls Shelter (TAGS) in Nairobi, Kenya.
In this report we wish to highlight our achievements since we started our shelter program for trafficked and abused girls in January 2012. You have walked the journey with us and deserve to know how we are doing So far.Overall, we have assisted 279 girls through our 4R model of Reach, Rescue, Rehabilitate and Reintegrate. All the rescued girls received basic needs, shelter, medical screening, counseling, Reproductive Health and Life skills training. At reintegration, young girls are returned to school while the older girls benefit from vocational skills training and job placement. We ensure that every girl is supported in a holistic manner so that they can recover from their traumatic experiences and become useful members of the society. So far;
a) 17 girls have been provided with formal education; 14 in primary school and 7 in High school.
b) 7 girls have sat for their national examinations – 2 "O" Levels and 5 primary school
c) 1 girl has joined a government sponsored tertiary institution and is pursuing a course in accounting.
d) 21 girls have joined vocational skills training and 4 have been given job placements.
e) 22 Unaccompanied minors have been referred to other agencies for further interventions.
f) 37 young mothers have been assisted so far, of these 19 girls were rescued while expectant while 18 had babies at the time of rescue.
g) 245 girls have been reintegrated/reunited with their families and linked with service providers in their home area for continuous monitoring and support.As we come to the end of 2015 we take this opportunity to thank you most sincerely for the support that you have accorded us over the years. Because of your support we have been able to provide services to girls in need and continue to do so.Shall we close the year by meeting our target? we still have $37,462 to go before we can meet our target in donations.  This holiday season please help us to reach that target.  Spread the word to your friends and loved ones so that they too can join us in making a difference.  It is because of your support that we are able to continue with the work that we do.  Thank you very much for all that you do to keep us going!
You can make contributions to the TAGS online at Global Giving or directly through the Tali Fund. Many thanks for the ongoing support that has such a great impact on the lives of so many young girls.
And be sure to see the entry below on our recent trip to Nairobi if you have not already.
With blessing to all,
R
—————–
12/01/15
We returned to Nairobi, Kenya to visit our friends at the Talia Agler Girls Shelter last month. It was another memorable visit. The Shelter has moved, grown and strengthened its program since we were there last in 2013. Thirty girls are currently in residence–plus five babies. All have been trafficked, abused or otherwise exploited. The Shelter (known by its initials "TAGS") is providing them safety along with the opportunity for growth, education and ultimately, reintegration into society. It is an inspiring and successful, though still fledgling, institution.
We (me, Mindy, my brother David and our friend Dr. Bernard Ginsberg, MD) spent a week with the girls of TAGS and the students of the Centre for Domestic Training and Development (CDTD). Both CDTD and TAGS were founded by Edith Murogo, who coordinated our visit. Edith's efforts enable some of society's weakest members to protect themselves and defend their dignity through education, vocational training, emotional support and counseling. The lives that the CDTD and TAGS reach are rescued from poverty, degradation and worse. It was most heartening to see it all.
Tali worked at the CDTD during her semester abroad in 2006 and it has grown significantly since she taught there. It now occupies a separate facility in the Giturai district outlying Nairobi. The TAGS opened in early January 2012 and was named for Talia after her passing later that same month. We know she would be proud of the work being done in her name.
Pictures (and videos!) being worth thousands of words, here are a few to give you a sense of what is going on there today. (Click on any photo to embiggen.)
We arrived with eight suitcases filled with shopping items for the TAGS girls. (The airlines allow two checked bags per person so that's the math.) It was mainly a haul of clothing and school supplies from discount stores. As far as the girls were concerned, it might as well have been precious jewels. (Bernie is at left, Mindy at bottom and Edith  at right center in blue jacket.)
Here is a scene from the CDTD. I spent several hours teaching the staff (on working as a team–something I have experience with from the congregational rabbinate) and the students. We later put everyone together and asked the students to address the question, "How will I be able to stay on the right path and avoid the wrong one when I leave here?" Since many of them come from world class African slums, these are no small questions. This photo gives some sense of how intently focused they were. Sharing and comments followed and then… unexpected expressions of gratitude. Each group wanted me to sit with them for a picture (e.g. below). The simple fact that people on the outside care enough to come and give of themselves is appreciated beyond words.
At the CDTD students can study subjects ranging from food preparation to hairdressing to computers to sewing to how to run a household. I know nothing about any of those but fortunately they were grateful for what I was able to share about making it through life.
Back at TAGS, here is Daktari (that's KiSwahili for Doctor) Bernard Ginsberg MD, being assisted by Nurse Hilda and teacher Julia. Together they were able to give an elevated level of medical treatment to the girls. In addition, Daktari Ginsberg assisted with Nurse Hilda's training and donated equipment and supplies to help her better meet the needs of her patients.
Here is Mindy teaching a lesson on assertiveness, self-esteem, and how to change self-defeating thoughts. This was the group of younger girls, but when all thirty TAGS girls are present for academics in what is essentially a one room schoolhouse, most Americans would be amazed at the extraordinary level of attentiveness and decorum.
Five babies and their mothers are currently in residence at TAGS. They are safe and cared for–which they would not be on the outside. Here Mindy and Bernie lend a hand.
At TAGS they not only raise chickens for eggs but keep two milk cows and a thriving vegetable garden. It helps everyone stay well nourished and enables TAGS be a bit more self-sustaining.
Hey, where'd you get those snazzy after-school uniforms? From the friends of TAGS of course! Thank you to all who contributed to help make it so! (And be sure to click on the video channel so you can see and hear us sing!) Seriously, if you miss this, you won't get the truly spectacular spirit of the girls and the work being done at the Shelter.
We were gifted with genuine Maasai blankets by Edith's sisters, who shared a meal with us at her home. I was assured this did not mean we are now genuine Masai warriors.
It's all done except for the polishing. Sculptor Kevin Odour was delayed in its completion due to a commission for a major artwork commemorating the struggle for Kenyan independence that now graces Nairobi's central park. We are honored that such a renowned and talented artist and craftsman contributed his talents to help memorialize Talia. The finished bust will stand on the grounds of the Shelter.
This is a current snapshot of Tali's ongoing legacy and lifesaving work. (Scroll down to see earlier entries or click the panel on the lower right to "follow" this blog so you won't miss future updates.)
Given the difference between the African and Western economies, even small gifts go a very long way. You can make one by clicking here.
Small or large, let me invite you to become a sustaining TAGS partner. According to Edith, just 180 donors giving $18 per month will keep the roof over the head and the floor under the feet of all of the TAGS residents for one year. How about it? That's not much for most of us. It will mean everything to them.
Click here either to make a one time gift or to become a sustaining partner. If you make a new recurring gift on December 1, Global Giving will match your commitment! You can also mail a check made out to our new 501 (c) (3) The Tali Fund and send it to 168 Sunset Gardens Drive, Tavernier, FL 33070.
Checks may also be made to Chemonics, with "Talia Agler Memorial Fund" on the memo line (it is important to do this exactly) and mail it to:
Chemonics
Talia Agler Memorial Fund
1717 H Street, NW
Washington, D.C. 20006—attention: Riley Smith
(Please note that contributions made through Chemonics are not tax deductible. Checks made out to the Tali Fund and online gifts made via Global Giving are.)
Larger donations are welcome too of course. December is the time when many of us make significant end of year contributions. If you think you might like to make one, let me know via rabbiagler@gmail.com. We can also arrange a personal communication with Edith and the students and will do our best to answer any questions you may have.
Rarely has transforming and saving lives been easier (for us–it's hard work over there.) In Tali's memory, we thank you.
——————-
9/29/15
Here is the text of the talk I gave at GW Hospital in Washington referenced below. NBC Channel 4 in Washington also did a story on Tali's lung recipient Brandy Swann. You can click here to see it. (Correction: she was 26, not 23 when she died.)
——————–
9/24/15
This is going to be an eventful fall for Talia and her legacies.
It begins in Washington this weekend where I've been invited speak at a dedication ceremony at the George Washington University Hospital in honor and in memory of organ donors and their families. It is sure to be an emotional visit as this is the hospital where Tali died.
In addition, the women who received her heart and lung, Martha Lefebvre (whom we have met previously) and Brandy Swann (whom we have not) will be there as well. Thankfully there will be a lot of support from Tali's extended family and friends as well. I'll follow up and let you know how it goes.
Here is the program and here is the slide they will use when Tali's name is called.
You may remember her namesake, Talia, born at the Talia Agler Girls Shelter in Nairobi in July 2013, whose picture is in the top row center.
Much more to come, I promise.
——————–
4/9/15
Tali would have been 30 years old today. In her memory, smile, show someone love, remember how special she was and think about doing one more thing to help repair the world.
Here is a recent report from Edith Murogo, founder and director of the Talia Agler Girls Shelter (TAGS) in Kenya, which continues to rescue and rehabilitate, in no small part due to the support of so many people who loved Talia and honor her memory.
Greetings from Nairobi!
Last year at a time like this i wrote a small report appealing for support for 2 of our girls who were sitting for their final examinations at both the primary and secondary school levels.  In Kenya, the final primary school examination is known as Kenya Certificate of Primary Examinations (KCPE) and comes after 8 years of schooling. One must pass this test in order to proceed to the next level which is: Secondary school. The secondary school final examination is the "O" Levels which comes after KCPE i.e after 4 years of schooling and is the examination that enables one to join the University (undergraduate) or tertiary learning institutions in Kenya.  We presented 2 candidates in 2014, one for each level.  This was the first time that we were presenting candidates for national examinations.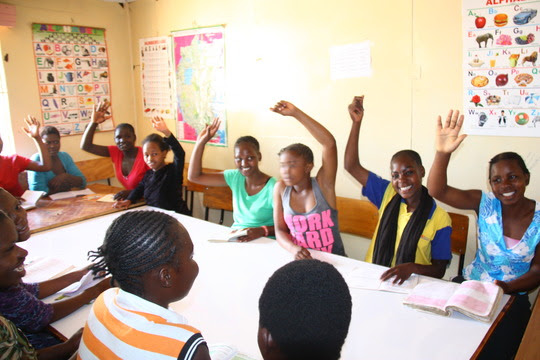 Mary (not her real name) is a 17 year old girl from Ethiopia who was rescued from trafficking.  She had been trafficked to Kenya for purposes of child labor, to work as a househelp.  As an unhappy child, living with both her father and step-mother back in Ethiopia, she became an easy target to some traffickers who promised her a better life in Kenya, where she would access education.  After being out of the school system for approximately 4 years, Mary was able to return to school and work hard.  We are proud that she managed to do us proud having scored as follows:
English – A, Kiswahili National Language – B, Mathematics – A-, Science 72B, Social Science and Religion – B
Ann (not her real name) is a girl who had been working as a domestic worker before returning to school to complete her secondary school education under the sponsorship of TAGS.  When Ann dropped out of school due to an early pregnancy, her father chased her away from home and never wanted her to go back.  Now that she has passed her examinations, her father has welcomed her back home and is very proud of her.  She has scored as follows:
English-B, Kiswahili-B, Mathematics-C+, Biology-C, Chemistry-C, Geography-C-, Christian Religious Education-B
With this performance, our girls both qualify to proceed to the next levels of their education.
We are most grateful for all that you have done.  We could not have achieved this success without your support, as it has taken a lot of resources and goodwill from all of you. Our investment in education is paying off, thanks to you! Let us continue supporting girls to return to school by giving them another chance…….
Won't you allow me to close with these words from Ann? "I am very grateful to Edith and the entire team working at the Talia Agler Gilrs Shelter.  I also want to thank all our donors for supporting us to be in school.  The program has given me a second chance to go back to school and achieve my dream of joining the university"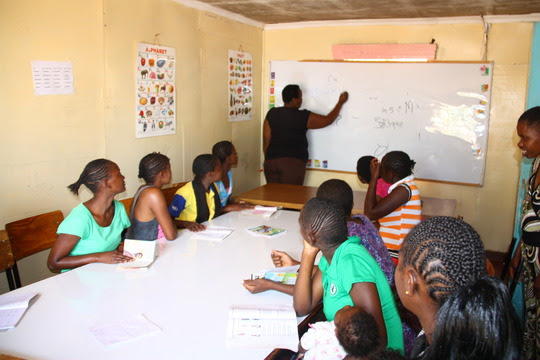 For those who have asked, none of our friends in Kenya were harmed in the recent terror attack which took place quite some distance from Nairobi. Once again, in what can be a dark world, it is a blessing to be able to kindle at least some light.
Thank you–and Happy Birthday Talia.
——————–
1/22/15
Talia's third yahrzeit, 3 Shevat by the Hebrew calendar, begins this evening. Yesterday, the Mitzvah Lunch Club in Boca Raton, FL, USA had a Skype visit with Edith Murogo, Founder and Director of TAGS in Kenya. They raised over $1100 to support the work being done there. This is an enormously impactful sum in Africa.
If you'd like to set up a "lunch club" group in your community–which can support many worthy causes–let me know and I will put you in touch with Marcy Barrick, the powerhouse who made it happen.
May we all remain inspired to do work that is blessed.
——————–
12/1/14
Dear Friends and Loved Ones,
Tomorrow is "Giving Tuesday," easily the most meaningful of these post-Thanksgiving "days." In that spirit, here is a report of some hands-on giving at the Talia Agler Girls Shelter (TAGS) in Nairobi.
Our friends Edina and Alan Lessack, of Temple Bat Yam in Sanibel, FL and Chicago, took it upon themselves to spend a day at TAGS during a recent visit to Africa. They spent a day there as volunteers. In Edina's words, if you can make this trip, it will be "one of the most meaningful things you will ever do in your life."
During their day at TAGS (8am to 5pm–"and it went by so quickly!") they accomplished many things. Here are a few of the highlights:
Alan, an architect, showed the girls maps and pictures of buildings in Chicago on postcards and in books. It was  fascinating for them.
Edina brought a chopper, measuring cups, and with local and imported ingredients taught them to make kugel and charoset (during Sukkot–why not!)
Alan asked the girls to write about themselves and what wanted to do when they got older. Everyone wrote–and shared.
Together they played bingo (an educational game, with numbers and letters!) took meals (which the girls prepared) and shared candy, which Edina brought with her. She also managed to bring in some coconuts from a Nairobi market, which the girls had never seen before.
Alan and Edina's son Lee Lessack is a concert performer. They were able to leave some of his CD's as gifts.
According to Edina, the girls are "organized and take direction"– both during classes and study in the morning and during enrichment and housekeeping in the afternoon. This comes as no surprise to those who know Edith Murogo, the Shelter's founder and director.
Of course Edith talked about Talia and how much she meant, and continues to mean, to the Shelter. Edith showed Edina and Alan some of the furniture Tali was able to procure through her own fund raising efforts as an undergraduate.
Either in honor of "Giving Tuesday," in memory of Talia, because we are nearing the end of the year or just for the sake of impacting the world in a direct, profound and personal way, we invite you to make a contribution to the work of the TAGS. If you cannot visit and give of yourself as Edina and Alan have just now, here are a couple of other ways to have an impact:
1)You can contribute through this link:
http://www.globalgiving.org/projects/talia-agler-girls-shelter/
2) Or, you can write a check payable to "Chemonics" with "Talia Agler Memorial Fund" on the memo line (it is important to do this exactly) and mail it to:
Chemonics
Talia Agler Memorial Fund
1717 H Street, NW
Washington, D.C. 20006—attention: Riley Smith
3) Arrange for a contribution to be made from your place of work or business. Many companies have charitable budgets or offer "matching funds" programs.
Thank you one and all for your continued caring and support.With gratitude and blessing,
Richard and Mindy
P.S. Here is a picture of "Talia at 15 months" taken by Edina. You may remember Talia was born to one of the girls and named at the conclusion of our last visit to Nairobi. Also, enjoy and smile during the video of the farewell song from the girls to Edina and Alan! To see it, click on http://youtu.be/OvO6UDzgNIQ
———————–
1/2/14
Here is an essay that Tali's cousin Adam Agler recently wrote for his 10th grade English class. His mom Ellen writes that Adam "elevated his remembrance of Tali, one that is both very painful and also brings joyful memories, to the surface and wrote about it."  His teacher wrote the following note: "Wow, Adam, what a beautiful story and lovely tribute to your cousin.  She sounded like a wonderful person and I'm sorry for your loss." Adam received an "A" on the paper. Read it and you will see why.
Clicking on the button below will facilitate your contribution, however modest or generous, to the Talia Agler Girls Shelter in Nairobi. Your gift will help rescue, rehabilitate and save the lives of trafficked and abused young girls in Tali's memory. Thank you.
——————–
12/2/13
Here is another story on the current organ donation initiative from the Florida Keys Free Press. The support and participation in the community has been outstanding. We continue to register new donors telling Tali's story–and Martha's–in the video from NBC Washington. See entry below for further details on how you can become a donor.
——————–
11/15/13
Dear Friends,
This is the gift giving season and there is no greater gift we can give than the gift of life.
Please click on the story from today's Florida Keys Reporter <front page> <inside page> about the effort our local community is making on behalf of Organ Donation in memory of Tali.
If you have not already done so, please consider becoming an organ donor now. It is simple, cost free, painless and may well be the most precious gift you have ever given to anyone.
From anywhere in the US, you can register at http://organdonor.gov/
If you are in Florida or the Washington DC area and want to tell them you are doing this in Talia's memory, click on https://www.donatelifeflorida.org/ or http://www.beadonor.org/ respectively.
To register to donate your organs in Israel, you can click here.
In either case, you will be doing more good than you ever thought possible.
As per the Reporter article, here in our small Upper Florida Keys community we are embarking on a campaign to sign up 2014 donors. We will be speaking at churches, synagogues, civic groups and others as part of our effort.
We have been amazed at how easy it is to get people to sign up to be organ donors. The main reason that people have not yet done so is inertia. We think it is something for "the future." But as we know, "the future" may arrive at any moment. And btw, age is not a factor! People of any and every age can be potential tissue donors.  (I never really thought about it but that's how I got my ACL replaced almost 20 years ago.)
There is a severe shortage of organ donors in the United States. There is no shortage of needy recipients. As a result, people—our friends, neighbors, loved ones–die waiting every day.
If you would like to do more than simply sign on and organize in your own community, let us know and we will help you get everything you need to do so. In our workplaces, civic clubs, houses of worship, schools or any other organization, people will say yes. The main thing to do is ask. It is something we all agree needs doing--and it is something we can all do.
Organ donation is recognized by leaders of all faiths–as well as by people of no particular faith–as a great virtue. The Conservative Jewish movement recently debated not whether or not organ donation was appropriate (it is) but whether or not it was an obligation. (Mixed vote, but still.)
As a gift to yourself and your loved ones, in memory of Tali, for people you may never know, we ask you to make this priceless gift today. We would be more than honored to know if you do—or already have.
Thank you more than we can know–and happy holidays to one and all.
Rich and Mindy
P.S. This link is to the NBC Washington report of our meeting with Talia's heart recipient, Martha Lefebvre. We've been told that viewing it makes a powerful impact and encourages people to register to be donors. If you are not sure about becoming a donor, please see it. And feel free to share it at any gathering you attend or lead.
———————
9/23/13
The South Florida Sun-Sentinel ran this story on the "Mitzvah Lunch Club," whose creation was inspired by Tali's life and legacy. I described this group in my Rosh Hashanah talk from this year entitled "Sacred Community." Blessings to Marcy Barrick for her work in bringing it to life.
———————-
9/17/13
There are a few things to catch up on.
We received a priceless gift and letter from the First Presbyterian Church of Smithfield, NC. Mindy and I met their pastor, Joe Hester, at an interfaith retreat over the summer. A group of women in his church have a "prayer shawl" project. They knit one in honor or Tali. You can see in the photo that it is in three main sections, one the colors of the Kenyan flag, the second, blue and white for Israel and blocked in tribute to the Western Wall and finally, five sections at the bottom to represent the five people who were given a new lease on life through Talia's organs. It is, as I said, a priceless gift.
Next you can see this blog entry from Temple Sinai in Washington, where Tali taught and worked part-time. It is a beautiful tribute to her.
My friend Rabbi Sam Cohon recorded an interview with me for his weekly radio show, "Too Jewish." It centers on Tali and you can listen to it here. Click on "Listen to past Too Jewish Shows" on the side menu and scroll down to the entry of 6/9/13. The Talia portion begins about twenty minutes in.
Sam is an exceptionally talented rabbi and while you are there, check on some of his other podcasts. There are interviews with everyone from Robert Klein to Kinky Friedman to Ron Blomberg. You won't be disappointed.
Finally for the moment, Rabbi Dr. Andrea Weiss is a professor of Bible at the Hebrew Union College-Jewish Institute of Religion in New York. Upon learning about Tali, her children, Rebecca, 15 and Ilan, 9, dedicated their annual tzedaka project fundraiser to the TAGS. They collected over $1000 in the process. Below is a picture of two exceptional young people. Tali would have been proud–as are we all.
———————
7/18/13
Mindy, Jesse, Tovah, Sarah, my brother David and I traveled to Kenya this month to visit the Talia Agler Girls Shelter (TAGS). As you might imagine, it was a most meaningful journey for us all.
In a bit of a role reversal, Mindy has been blogging extensively on the trip at http://taliafaithagler.shutterfly.com. You can click on "TAGS Visit June13" to get to the new pages directly.
I've decided to take another tack and let the pictures do most of the talking–with a few captions for good measure. I hope they give you a sense of what we experienced and the wonderful work that is being done there.
————————-
First, if you do nothing else here, see these videos, taken at the TAGS. They say pretty much everything that needs to be said.
There are more in this vein at this You Tube channel but at least see those two.
—————————-
Let's do this next.
————————-
Here are some photos from our visit to the Shelter. I recommend you see them all. (Of course, why else would I have posted them!)
————————-
Here are some pages on our visit to the CDTD's central office. The CDTD is the parent organization of the TAGS. It is where Tali worked as a student.
————————-
And here are some pages from my teaching experience for the CDTD in the outer Nairobi neighborhood of Githurai.
————————–
Finally, at the TAGS, there was a fifteen year old girl, well along in her pregnancy. She had been trying to decide between giving the baby up for adoption and keeping her. Shortly before we arrived, she decided to keep the baby. She gave birth on our last full day in Kenya and named the baby Talia. We all pray that she shines as brightly as her namesake.
————————–
The Talia Agler Girls Shelter and the Centre for Domestic Training and Development both exist in order to provide opportunity and hope to human beings who may have little of either, due to life circumstance, poverty, abuse, trafficking, violence and more.  They rescue, restore, and quite literally, save lives. We continue to be grateful for Tali's legacy and that she continues to be a blessing.
That will do it for the moment. Thank you one and all for visiting. Feel free to share any of this content with anyone who might appreciate it.
R
————————-
Of course, any contribution you can make, however modest, is most appreciated and will be most effective. (From the $2000 that Tali raised in 2006, Edith was able to construct eight classrooms and several bunk beds. You read that right.) US dollars go a very long way in Kenya. Thank you for whatever–or anything–you can do.
————————-
6/4/13
The South Florida Sun-Sentinel has just published this article on Tali, her work and her legacy.
5/1/13
An NBC Washington television crew visited Mindy and me in Florida last week to do a story on Talia and organ donation. Together with the Washington Regional Transplant Community, they arranged for us to meet with Martha Lefebvre, Tali's heart recipient and her husband Bart. The three broadcast reports are linked here, here and here.
And here is an accompanying story from the Florida Keys Free Press.
Please do what you can to support organ donation. If you are unable for whatever reason to do so, please consider making a regular donation, of any amount, to the Talia Agler Girls Shelter in Nairobi, Kenya in memory of Tali and in honor of her ongoing work. You can do that by clicking here. We thank one and all for your continuing support and love.
—————-
12/18/12
A beautiful new 3 minute video narrated by Edith Murogo and produced by Chemonics highlighting the work of the Talia Agler Girls Shelter can be viewed by clicking here.
————————–
12/2/12
Some new pictures from the Talia Agler Girls Shelter–sent by Edith. Click the link: TAGS Photos Nov 2012 to see them. As with all the photos and letters from the TAGS, they remind us why it remains our privilege to support the work.
———————–
10/13/12
A new video, produced by all who contributed to the Talia Agler Memorial Fund through Chemonics and describing the needs that are being met by the Talia Agler Girls Shelter (TAGS) is linked here. The video is 7 minutes long and tells the story about the life-saving work that the TAGS does. We encourage you to view it, "like" it, and share it with your friends.
10/9/12
Here is a letter from the President and CEO of Chemonics International, Richard Dreiman, who recently visited the Talia Agler Girls Shelter in Nairobi with members of his staff. Tali of course worked at Chemonics and the company has been incredibly supportive both of the work of the CDTD, including the Shelter, and our family, since the beginning.
9/11/12
If you are giving tzedaka at the new year, please know that contributions to the Talia Agler Girls Shelter in Nairobi can now be made online through Global Giving. Global Giving is a remarkable organization that vets and funds charitable causes around the globe. Its work has been recognized in the NY Times, Washington Post, NPR, Forbes, Foreign Policy, USA Today and more. That the Talia Agler Girls Shelter has already been included on the Global Giving roster is a noteworthy achievement and a particular tribute to Edith Murogo, the shelter's founder and Tali's teacher, sponsor and friend.
In addition, the Religious Action Center of Reform Judaism continues to accept gifts for the Machon Kaplan College Scholarship fund in Tali's memory.
And please, if you are eligible and have not already done so, become an organ donor and give help give the most priceless gift of all, the gift of life.
Finally, you can now "Like" the Talia Agler Girls Shelter on Facebook. If you are on Facebook, we invite you to do so–and tell all of your Facebook friends to do the same!
May the blessings of life be ours to give and receive in 5773.
8/28/12
New from Edith Murogo in Nairobi–includes a video link on the Talia Agler Girls Shelter (TAGS):
…We are expecting two very senior staff from Chemonics and are very excited about it. Also around the 22nd of Sept. we shall be receiving the US Ambassador-at-Large from Washington DC who is in charge of Trafficking in Persons (TIP). He will be in Kenya to hold a roundtable discussion with stakeholders on TIP, which is critical because Kenya has recently been downgraded from Tier 2 to Tier 3 due to poor implementation of the TIP Act…
…I want to assure you that Tali's spirit is living even more strongly through the work that we are doing at TAGS. I went to visit TAGS last Saturday and was so much moved by the spirit of Tali as I tried to bring her alive to the girls at the shelter so that they could really know who she was…
I am attaching a link of a digital story that was developed by CDTD staff with the help of a lady known as Lydia Holden who had been sent by the GFC (Global Fund for Children) early this year before we legalized the name TAGS. It captures the change moment when CDTD decided to start a shelter for girls only early this year. You can find the digital story here.
Love,
Edith
6/20/12
My cousins Sharone and Aaron Cheskis (Sharone is the daughter of Rachel and Stan Lerner) recently gave birth to a baby boy and named him Brandon Naftali. For the bris, Sharone wrote the following words:
"Naftali is named after two people. First is my cousin Tali Agler. She was the type of person that whenever I think of her, I thank G-d for the miracle that people like her ever exist in our world.
As a mother however, I hope that our son takes many more years to accomplish what Tali did in her short life. For that reason I lengthened her name to Naftali, the tribe blessed with the symbol of the deer.
The second is my great uncle Tzvi Klein whose name means "deer." I loved his sense of humor and his general outlook on life.
I hope that our son takes the many virtuous traits of Tali and continues to make the world a brighter place well into old age."–Sharone
To this I add, may Brandon Naftali Cheskis come to be in Israel a shining name. And may Talia Agler continue to be remembered for blessing and inspiration.
4/11/12
Here's a letter we received today from Edith Murogo in Nairobi to Tali's company, Chemonics that was cc'd to us. It is descriptive of Tali and the relationship she had with the Centre for Domestic Training and Development. Thesecond part details the trafficking victims assistance program that takes place at the newly established Talia Agler Girls Shelter.
Here is a photo of the shelter:
Here are some more photos of the work going on inside.
4/2/12
Thank you more than we can say to those who have asked how to contribute to the newly established "Talia Agler Girls Shelter" at the Centre for Domestic Training and Development in Nairobi, Kenya. (See 3/7-8/12 entries below if you do not know about this.) The easiest way to contribute is through Tali's former employer, Chemonics. Make a check out to Chemonics and be sure to write "Talia Agler Memorial Fund" on the memo line. Mail it to Chemonics, 1717 H Street, NW, Washington, D.C. 20006. They will see that it gets to the Centre. And be secure in the knowledge that Edith will see that your gift goes a very long way. We are most grateful to Chemonics for continuing to process these transactions.
We also invite you to support the Religious Action Center of Reform Judaism with contributions to the RAC, Talia Agler Memorial Fund, 2027 Massachusetts Avenue, NW, Washington, DC 20036. We have joined with Rabbi David Saperstein in designating this fund to be a source of scholarships for the RAC's Machon Kaplan summer college intern program. Thank you once again.
3/1/12
Please do Tali the honor of accepting our invitation to visit the website we have created in her memory. Spend some time there and come back often. Whether you knew her well, a little, or not at all, you will be inspired by the blessing that was her life.
Also, please consider supporting any of the causes listed there–or one of your own favorites in her name. Tali really was all about making the world a better place. She did. And so can we all.
—————————-
3/11/12
My friend and colleague Jack Riemer asked for a copy of the "Rules According to Tali" that Mindy shared at the memorial service in Florida. He wanted to teach from them at his Shabbat table and described the compilation as an Ethical Will. Inasmuch as Jack has written books on that subject, we'll accept his description. Read, enjoy and share them at this link–scroll down to the Feb. 5 entry by Mindy.
——————————-
3/7/12
Mindy and I met today with Edith Murogo, the Director of the Centre for Domestic Training and Development in Nairobi, Kenya. This is the place where Tali worked when she was an undergraduate on her semester abroad and one of the places we have suggested that people contribute to in Tali's memory.
Edith is in the United States to speak as an invited guest at two international conferences on the role of women in Washington, DC. Despite that, she made it her business to fly down to meet with us for a few hours in the afternoon. We looked forward to being with her, as it would provide us the opportunity to share some Tali stories with someone who was very special in her life. It turned into something more.
As we sat over sandwiches at the airport, Edith told us that the CDTD has recently expanded to include a program for the rescue of girls ages 10-18 who have been victimized by trafficking. We congratulated her on this most worthwhile mission. Then she told us that the board of the Centre has decided to name it the "Talia Agler Girls Shelter." It left us speechless. But we wanted to share the news with you.
Thank you once again to one and all who have been there for us in love and support in recent weeks. We remain more grateful than we can say. And yes, Tali's memory is very much for blessing.
Rich and Mindy–and Edith
———————————
3/8/12
Correspondence between me and Edith:
> Date: Thu, 8 Mar 2012 08:20:55 -0500
>
> Dear Edith,
>
> Yesterday's visit is one we will never forget. Meeting you for the
> first time brought Tali and her love to life once again. I have
> always believed that good people will find other good people and as
> Mindy said to me last evening, you and Tali were a match made in heaven.
>
> We are touched and honored more than we can say by the naming of the
> girls shelter in her honor. Thank you to you and the board members so
> very much. I know that her spirit will keep everyone who knew her
> energized and focused on making the girls lives all that they should
> be. We will make it our business to visit one day, hopefully in the
> not too distant future.
>
> Thank you once again and many blessings to you and your loved ones.
>
> Richard
Dear Rich and Mindy,
Thank you so much for finding time to meet me yesterday. I will always cherish the precious time we spent together and I can't begin to say how much I felt touched and appreciated by your love and kindness. Mindy it is always my pleasure to talk to you and now I am happy that I met Rich. You are such a wonderful couple and even though I know that you have heard this before many times, I want you to know that this is from the depth of my heart. I want to commit that I will do everything possible to keep Tali's candle burning and to let the flames warm needy girls especially those who have no one else to turn to. I am sure you will support me in this so that together we can do what Talia would be proud of…
I had a good journey back yesterday arriving at Washington at midnight! By 10.30 am today, I was at the Global Fund for Children's (GFC) Boardroom making my presentation, especially about the Talia Agler Girls Shelter. As you already know the GFC is providing initial support to CDTD to develop this shelter so that it can offer much needed services to abused girls. At the moment GFC has approved a grant to develop a Child Protection Policy to guide our engagement with children and another grant has been given to some consultants in Tanzania so that they can start a process of organizational development.
I want to thank you very much for accepting our request to honor Tali through the Shelter Project and hope and trust that her spirit will live on through the vision of this project. I will be contacting you both in future to discuss more on this project but for now let us all concentrate on thinking how best we can set up and develop the shelter. I know you both have a lot to offer.
Mindy, thanks for writing to Lucy, she adores you and hopes that she can meet you some day. As I told you she is a great lady, she made it possible for me to meet you and Rich yesterday.
I have just seen an email of your friends who would like to make a donation, I will reply to them, and inform them of how to do so through our website.
With much love,
Edith
domesticworkers@hotmail.com
http://www.domesticworkersprogram.org/
—————-
3/4/12
Rabbi Efrem Goldberg of Boca Raton Synagogue (Orthodox) wrote the passage below in his blog following his shiva call in honor of Tali. It is in the context of Jews across the various movements building closer bonds but it stands on its own here.
…Indeed, it was this motivation that two weeks ago led me to a decision that I am so happy I made. Rabbi Richard Agler, who recently retired as the Sr. Rabbi of Congregation B'nai Israel , a Reform Congregation, suffered a terrible tragedy when a car struck and killed his 26 year old daughter as she was jogging… I decided that the proper thing to do, if for no other reason than my role in the Orthodox community of Boca, was to pay a shiva call. And so, Rabbi Broide and I went to the Agler's home to simply communicate that we care, feel their pain and pray for their comfort.
The time we spent together and the inspiration Rabbi Broide and I received that day, were remarkable. I asked Rabbi Agler how this tragedy impacts his faith in the Almighty. As a Rabbi, he undoubtedly has spoken about bad things happening to good people, but now he has lived it.
His answer blew me away. He said, "My Judaism, my relationship with God and my faith are what empowered me to raise such a wonderful daughter and these values are what gave her life meaning and purpose. Why would I throw away the very things that made her so special, just because she was taken so prematurely and tragically? Faith allowed me to raise a special daughter, and faith will guide me through the tragedy of her death."
To read the remainder of Rabbi Goldberg's blog post click here and scroll down to the entry of Feb. 10.
———-
3/1/12
Deepest thanks to the members of the Keys Jewish Community Center who have dedicated this brick in the Meditation Garden in Tali's memory. Among many other places, she loved the Keys.
—————
2/12
Dear Beloved Friends,
Words cannot express my gratitude for all your support at this sad time in our lives. It is that support from Tali's friends, our friends, Jesse, Tovah, and Sarah's friends, and our amazing family, that will get us through this.
A website has been created where we can all post our memories of our wonderful Tali. Please visit this link to add your thoughts. We will posting our remarks, as well as those of others who spoke at her two memorial services.
Thank you again for all your kindnesses and love.
Mindy
————————–
1/28/12
With inexpressible sorrow and loss, we inform you of the sudden passing of our daughter and sister Talia, on Friday, January 27 in Washington, DC. Tali was jogging along the National Mall when she was struck by an automobile and fatally injured the previous evening.
Tali sought to better the world and she succeeded in doing so–through her work, through her wit and through her love. Her memory is more of a blessing than we can say.
Contributions in Talia's memory may be made to the Centre for Domestic Training and Development (CDTD) in Nairobi(through Chemonics) or to the Religious Action Center in Washington, DC
Chemonics
Talia Agler Memorial Fund
1717 H Street, NW
Washington, D.C. 20006
Religious Action Center of Reform Judaism
Talia Agler Memorial Fund
2027 Massachusetts Avenue, NW
Washington, DC 20036
As an organ donor, Tali's heart, kidneys, liver, pancreas and lung gave life to five individuals. They and their loved ones are more grateful than they can say. In Tali's honor, or your own, we invite you to consider becoming an organ donor.
We also invite you to visit and add to this link that has been established in her memory. Come back often as it is a work in progress.
We are more grateful than we can say for the outpouring of love and support we have received. Kindly bear with us as it will take some time to appropriately respond to one and all. Thank you, and bless you, once again.
Richard, Mindy, Jesse, Tovah and Sarah Agler